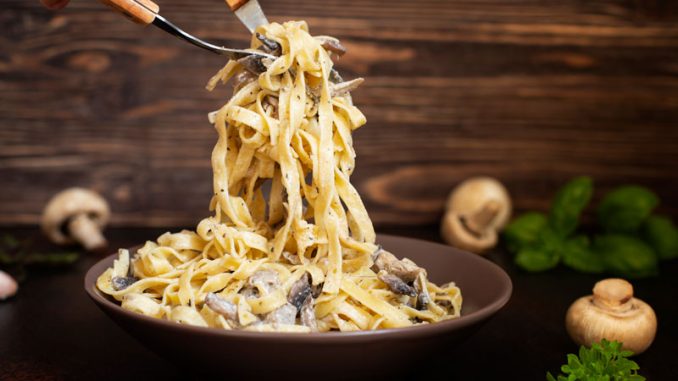 This is a recipe we saw on YouTube from Gordon Ramsay's 10 minute meals. This is a dish we tried a few times and will continue using it. It is also a great meal for the vegetarian in you circle.
Ingredients:
2 Handfuls (8 oz) of Mushrooms sliced
2 tablespoon Olive oil
1 or 2 gloves of Garlic, finely chopped
1 large Leek cleaned and chopped
2 cup Chicken stock
3 or 4 Pasta Sheets or what ever you have
1 Cup Heavy Cream
Handful of Tarragon fresh chopped
Directions:
Put a large pot of water on low to boil pasta in later.
Clean leek by cutting green area in quarters lengthwise.  Rinse in water to get dirt and sand out.  Then cut in quarters.
Slice mushrooms.
Put olive oil in pan and heat on medium high.
Add mushrooms and saute for 5 minutes.
Add leeks to mushrooms and continue sauteing until they form a crisp edge.
Add chicken stock and continuing cooking until reduces by half.
While chicken stock is reducing put pasta sheets into boiling water.
Twist the pot so the pasta sheets do not stick (sheets are done when you hold up a sheet and you touch the pasta and you can feel your fingers though the pasta).
After chicken stock reduces by half, turn fire down to low, add cream and mix thoroughly. Simmer 3 to 4 minutes.
Put pasta sheets on top of sauce and turn fire off.
Put chopped fresh tarragon on top.
Notes:
Plating, place some sauce on center of plate, then twist pasta sheets and place on sauce. This dish pairs well with Garlic bread and we enjoy the Outrageous Garlic Bread.
Depending on the amount you are making you can adjust the liquids.