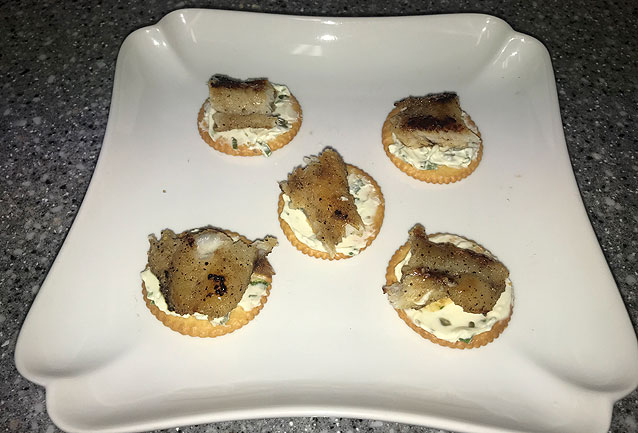 You can get catfish almost anywhere, but when you catch it and cook it yourself it's always better. These Catfish Bites are not only Good, they are O-Soo Good. Try it yourself and let us know your thoughts.
This dish is a great appetizer created from catfish caught in Louisiana on "JUG" lines. Check out the full story on how we catch catfish in South Louisiana.
Ingredients
1/3 cup Dark Brown Sugar
2 TBSP Lemon Zest
1 1/2 TSP Salt
1/2 TSP Fresh cracked black pepper
Catfish fillet's
Directions
Mix the first 4 ingredients together
Rub filets and let sit at room temp for 45 minutes
Broil 8-10 minutes
[/directions]
Cream Cheese Spread
[ingredients title="Ingredients"]
1 package room temperature cream cheese
1/2 jar capers with a little juice
1 small handful of green onions
[/ingredients]
[directions title="Directions"]
Chop the green onions extra fine
Mix the 3 ingredients together and set aside
[/directions]
We use the same rub on Salmon and have great results.There are many different variation of this simple dick that you can create.
We choose to use Ritz crackers as our base and spread a small amount of cream cheese the top with a small piece of catfish.
NOTE:
You can either cook the catfish in the broiler, flat top griddle or on a grill like the Green egg. I like to use the Fajita skillets, they hold the juices longer.
Be sure NOT to over cook the fish or you will end up with a black sticky mess with the sugar tars up.