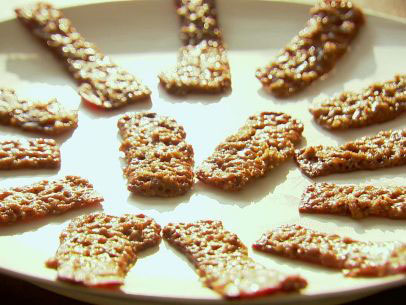 I saw this recipe and had to try it. How can you go wrong with bacon!
Ingredients
1 cup brown sugar
2 cup chopped pecans
4 tsp salt
2 tsp black pepper
1/4 tsp cayenne pepper
4 tbsp pure maple syrup
1 pound thick sliced bacon
Directions
Preheat the oven to 375 degrees F. Line a sheet pan with aluminum foil (for easy cleaning) and place a wire baking rack on top, and spray both with PAM.
Combine the brown sugar and pecans in a food processor and process until the pecans are finely ground. Add the salt, black pepper, and cayenne pepper and pulse to combine. Add the maple syrup and pulse again to moisten the crumbs.
Cut each bacon slice in fourths crosswise and set aside.
With a small spoon, evenly spread the pecan mixture on top of each piece of bacon, using all of the mixture.
Place the pieces on the baking rack without touching.  Bake for 25 to 30 minutes, until the topping is very browned but not burnt. If its under baked, the bacon won't crisp as it cools.
While its hot, transfer the bacon to a cooling rack covered with parchment paper and set aside to cool. Serve at room temperature.
Notes:
I try to use the meaty pieces of the bacon, while the fat pieces will crisp better they taste fatty. If the bacon does not crisp up, you may need to reduce the oven temp a little and cook it longer.
*BGE Note
We use a plate setter and a grill grate to cook the bacon on. We also leave the bacon uncut so it does not fall between the grates. We also noted that we needed to reduce the temperature down to 325 and shorten the cooking time to 10-15 minutes.