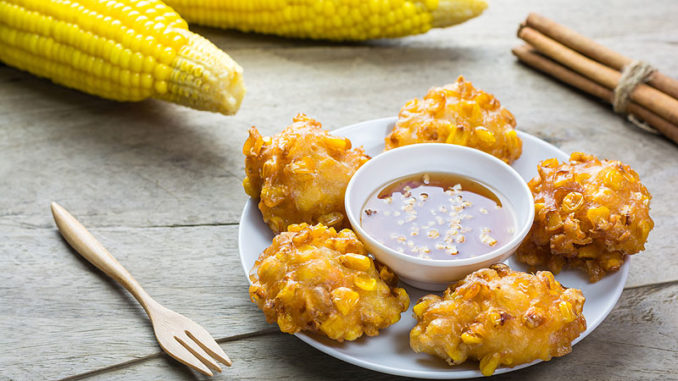 This recipe came from Facebook but we here in New Orleans needed to tweak it a little. Rather than using frozen corn, we use the corn left over from a seafood boil.  This one change adds a kick from the boil seasonings.
Ingredients
8 oz diced bacon
1/2 cup self-raising flour
2 eggs
10 oz corn kernels
sea salt
Directions
Place the bacon in a cold frying pan. Turn the heat to high and cook until crispy. Transfer to a plate lined with paper towel and allow to cool.

Place the flour, eggs, half the corn kernels and a pinch of salt into the bowl of a food processor. Blend until smooth.

Transfer the mixture to a large bowl and fold through the remaining corn and cooled bacon. Mix until well combined.

 

Pour enough oil into a large frying pan to shallow fry (about a 1/2 inch depth of oil is good). Place over high heat. When the oil is hot, 350 – 375, spoon heaped tablespoons of the batter into the oil. Cook for 2 minutes, turning over when the bottom is golden brown and cook another 2 minutes. Drain on paper towel. Repeat until all the batter is used up.

 
Notes:
The first time we cooked this I thought the batter was too wet to fry but I was wrong.
You can also serve this with a dipping / BBQ sauce.
Depending on your taste, you can add peppers, cheese or a few other extra's to enhance the texture and flavor