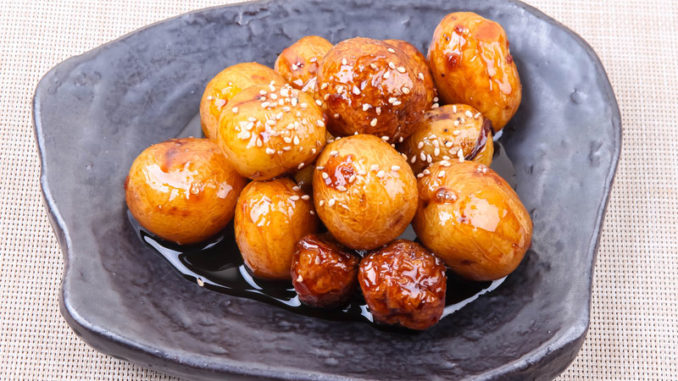 Saw this on Facebook and had try it. We liked it enough that we added this recipe to our list for future reference.
Ingredients
1 lb baby potatoes, large ones cut into halves and small ones leave as whole
1 1/2 tbsp cooking oil
1 cup water
5 tbsp soy sauce
4 tbsp maple syrup
sesame seeds for garnish, optional
Directions
Heat a large skillet or wok over medium high heat, add cooking oil and potatoes. Pan fry the potatoes about 4 to 5 minutes or until the potatoes's edges are slightly light golden brown.
Pour the water, soy sauce and maple syrup into the potatoes and bring it to boil. Keep hard boil until most of the liquid is gone and thicken, 15 to 20 mins or until the potatoes are fully cooked. Stir occasionally so the potatoes will cook evenly and coated with the sauce evenly.
Remove from heat and garnish with sesame seeds to your taste. You can serve immediately or keep it in a fridge for 3 to 4 days. It can be eaten cold, room temperature or hot. Enjoy!
<iframe src="//content.jwplatform.com/players/5AKRZscb-NAlWN4ER.html" width="320″ height="260″ frameborder="0″ scrolling="auto"></iframe>