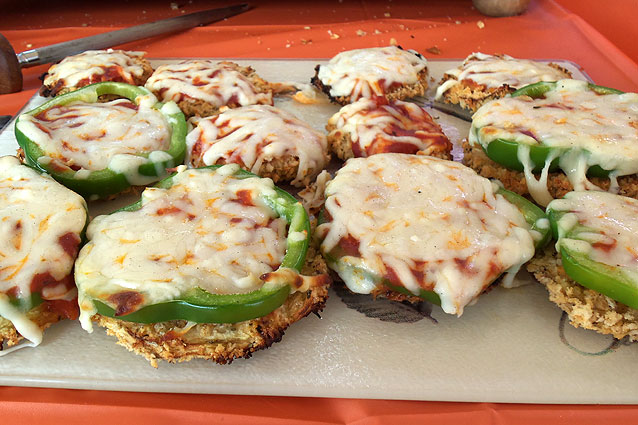 This started off as a veggie pizza, then we thought it would be fun for the kids.
If you use weight watchers, then you may recognize this recipe. We have added our own twist to it to make it a little more fun.
Ingredients
1/2 cup store bought marinara sauce
2 Cups Panko Bread Crumbs
1 Large Eggplant
1/2 cup shredded Cheddar Cheese
Olive Oil Spray
1 Cup Buttermilk
1 Tbsp Italian seasoning
Directions
Remove the skin from the eggplant.
Slice into thin round disk. Salt both sides and let sit for about an hour.
Dry pieces and mix the Panko crumbs and Italian seasonings.
Dip the eggplant into buttermilk and then into bread crumbs. Arrange slices on cooling rack making sure not to touch each other.
Cook at 400 degrees for 10 minutes or until crunchy.
Remove from green egg and add toppings.
Return to green egg until toppings are melted.