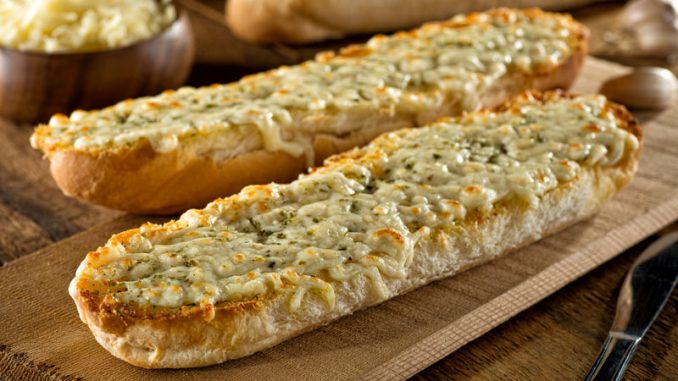 Garlic bread is easy to buy but does it taste like you want it to? I saw this on Barefoot Contessa and wanted to make it my self, and you know what… it was OSoo Good! We are adding it here because we wanted to share.
Ingredients:
12 tablespoons (1 1/2 sticks) unsalted butter
1 head garlic, cloves separated and peeled
1 cup freshly grated Italian Parmesan cheese
2 tablespoons minced fresh parsley
2 teaspoons grated lemon zest
1/4 teaspoon crushed red pepper flakes
Kosher salt and freshly ground black pepper
1 (20 to 24-inch-long) crusty French baguette
Fleur de sel or sea salt
Directions:
Preheat the oven to 450 degrees F.
Melt the butter in a small saucepan over low heat. Add the garlic, stir to coat with the butter, and cook, covered, for 20 minutes, stirring occasionally, until the garlic is very tender. Transfer to a small bowl and set aside until cool enough to handle. Mash the garlic in the butter with a fork. Stir in the Parmesan, parsley, lemon zest, red pepper flakes, 1 1/2 teaspoons kosher salt, and 1/2 teaspoon black pepper.
Slice the baguette in half lengthwise and place both halves, cut sides up, on a cutting board. Score each half diagonally (don't cut all the way through) in large serving-size pieces. Spoon all of the garlic mixture generously on the cut sides of the bread. Cut each half of the baguette in half crosswise along a score and place the 4 pieces on a sheet pan lined with parchment paper.
Bake for 5 to 7 minutes, until the topping is bubbly and starting to brown and the bread is crisp. Transfer to a board, cut in serving pieces along the scores, sprinkle with fleur de sel, and serve warm.
Notes:
We used Salted butter and did not add any more and it was tasty, we also forgot to add the black pepper maybe that is why it did not have a bite.
Some people were put off by the green color, maybe they thought it was going to be pesto.
I thought it needed a little more pop so the next time I upped the red pepper flakes to 1/2 teaspoon.
I tried using minced garlic but it was not a smooth, still good, and I used 1/4 cup.
Variations:
Other variation you can do is add mozzarella cheese, small tomatoes, thinly sliced onions.
If you would like to see the original recipe, please visit:
https://www.foodnetwork.com/recipes/ina-garten/outrageous-garlic-bread-12099314