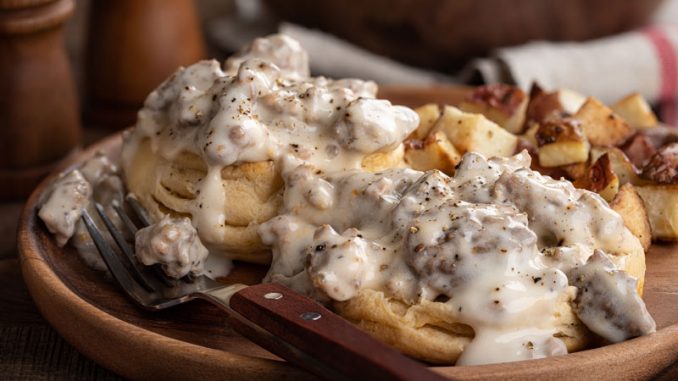 There are many different recipes out there for a simple gravy, but here is one I found that take the guess work out of the equation.
This is for you C3
Ingredients
4 Tbsp Butter
4 oz Breakfast Sausage
4 Tbsp all purpose flour
4 cups of milk
Salt and Pepper
Directions
All the Butter and sausage to the skillet
Break up the sausage into small pieces
When about 1/2 way cooked add the flour and continue cooking
Cook until the juices are gone and the sausage is cooked
Add 1/3 of the milk and continue to stir until the milk has thickened and color is darkening
Add another 1/3 of the milk and do the same
Add the rest of the milk and continue to cook until the desired thickness
Salt and pepper to taste
Notes:
We like the Jimmy Dean Hot sausage as well as the Swaggerty Farms Hot Breakfast Sausage.
You will also notice that the gravy will continue to thicken the longer it cooks. If the gravy has gotten to thick when you are ready to serve you can thin it a little by adding more milk and cooking it until smooth.
You can make change this gravy by changing the sausage to another type of meat.
You can also add more ingredients to the mix such as mushrooms, onions to make this a hearty gravy for any meal.
This recipe originally cam from the Hungry Hussy YouTube video.
You can also make the simple 2 ingredient biscuits from the Hillbilly Kitchen