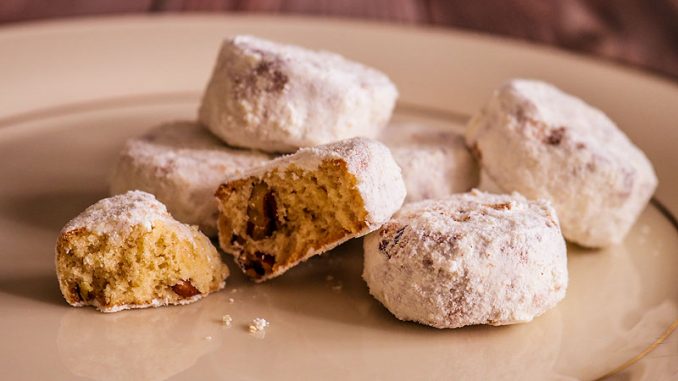 We normally buy the David's Butter Chopped Pecan Meltaway Cookies from Costco, but then we found the recipe and have used it ever since.
Made with real butter, chopped pecans and dusted with powdered sugar.
Ingredients
2 sticks butter
4 tablespoons powdered sugar
2 cups flour
1-1/2 teaspoon baking powder
1/2 teaspoon salt
1 teaspoon vanilla
1 cup finely chopped pecans
Directions
Cream butter and powdered sugar.
Sift together flour, baking powder and salt.
Gradually add flour mixture to creamed butter. Add vanilla and nuts.
Chill mixture for 2 hours.
Roll dough into crescent shapes and place on ungreased cookie sheets.
Bake at 300 degrees for 25 minutes.
Cool then roll in powdered sugar.
Notes
This recipe came from Rouses Supermarket, tried and true and makes 2 dozen cookies.
Mrs. Rouse's Cocoons
https://www.rouses.com/cooking/recipes/cocoons/