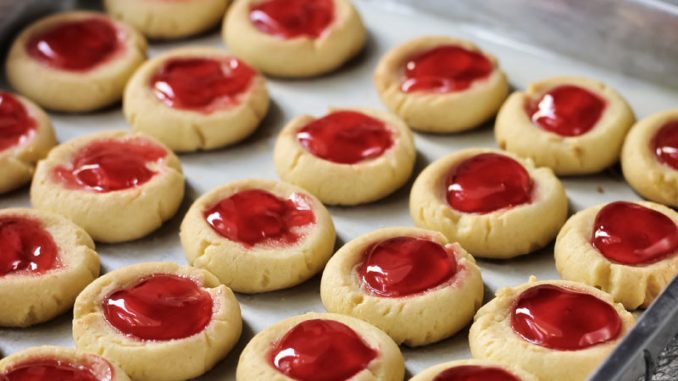 Ingredients
4 ounces (1 stick) unsalted butter, softened
½ cup honey
2 eggs
½ teaspoon vanilla extract
1 cup cornmeal (5 ounces)
1.5 cups white whole wheat flour or all-purpose flour (6 ounces)
1 teaspoon sweet paprika
1 teaspoon fine sea salt
½ teaspoon ground nutmeg
⅛ teaspoon cayenne pepper
⅓ cup pepper TT's Strawberry Pepper jelly, or as needed
Directions
In a large bowl, using a wooden spoon or an electric mixer,beat the butter and honey until well blended. Mix in the eggs and vanilla, scraping the sides and bottom of the bowl. (At this point the batter will look curdled—that's normal. The dough will come together when the cornmeal and flour are added.)
Whisk together the cornmeal, flour, paprika, salt, nutmeg and cayenne until the spices are well dispersed. Mix into the butter mixture until the dough comes together. Scrape into a bowl.
Preheat the oven to 350° F. Line 2 large baking sheets with parchment paper or a silicone baking mat. Drop rounded teaspoons of the dough onto the prepared baking sheets, about 1-inch apart. Or scoop the dough into 1-inch balls using a small #100 scoop.
With your middle finger make a deep indent. Move your finger around to widen the hole, leaving a 3/8-inch border around the "thumbprint" hole.
Fill with pepper jelly.
Bake 10 to 12 minutes, until just barely golden on the bottom of the cookies.