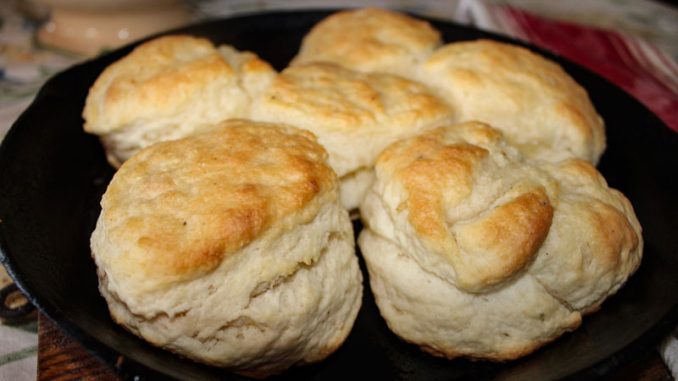 Simple and had to try myself and these are light and fluffy.
Ingredients
2 cups Self-Rising Flour (Sifted)


1 to 1 ½ cups Heavy Cream

Bench flour
Directions
Add 1 cup of heavy cream to the flour and fold gently
Add more as needed to get a crumbly mixture, not too wet
Flour your work surface and pour spoon mixture on to the surface
Gently flatten the dough to a sheet about 1/2 in thick
Use a cuter to cut the biscuits to the size you like
Place on a cookie sheet with sides touching (this help the rise)
Brush a little heavy cream on the top of the biscuits
Bake at 450 for 12-15 minutes
Notes
For flaky biscuits press the dough a little thinner then flour the top and fold over, and press down to 1/2 inch and repeat twice. then cut the biscuits to the shape and size you like and and everything else is the same.
You can also add herbs and other spices you elevate your biscuits from standard biscuits to a dinner biscuit. Such as cheddar cheese, garlic, thyme, everything bagel seasoning.
This recipe came from the Hillbilly Kitchen YouTube channel.