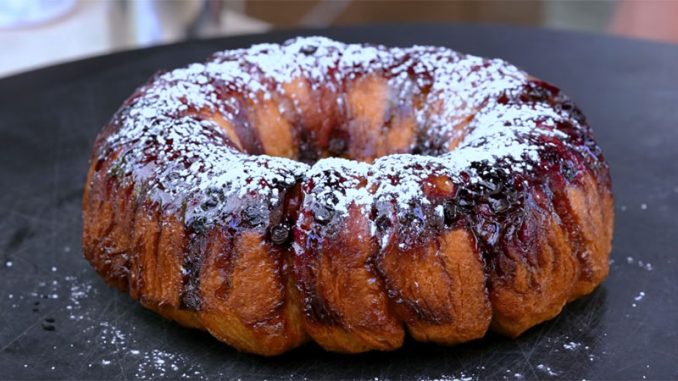 This recipe came from "Sam the Cooking Guy's" YouTube channel. It was post for Mother's Day 2021 and I knew I had to make it.
I made it once for my family and then it was requested for the Christmas morning treat. Going forward beyond 2021 I think it will now become a Christmas staple.

Ingredients
2-16.3 oz Pillsbury Buttermilk Grand Flaky Layer biscuits, (8 biscuits)
3/4 cup frozen blueberries, small berries if you can find them
1/3 cup lemon juice
1 cup sugar
1 tablespoon cinnamon
1 stick melted butter
Powdered sugar to make it pretty
Directions
Preheat oven to 375 deg
Butter Bundt pan really well
Mix cinnamon and sugar together in a small bowl, set aside
Place about 1/2 the berries in bottom of pan
Separate biscuits – dip in lemon juice, then in sugar mixture and stand then up on their sides on the blueberries in the bottom of the pan – I ended up using only 16 biscuits.
Scatter remaining berries on top – but push some of them through into and between biscuits
Brush the top or the biscuits with remaining butter.
Bake approximately 30 minutes, or until brown and firm to the touch
Let cool for a few minutes, then loosen edges carefully, put a large plate on top and turn over.
Let cool about 5 minutes, then dust top with powdered sugar
Notes
Made with refrigerated biscuits and frozen blueberries – this simple crazy little ring is so tasty you will need to make it yourself!
Take time to watch the video, There is a leftover recipe when  you make French Toast with the blueberry ring.