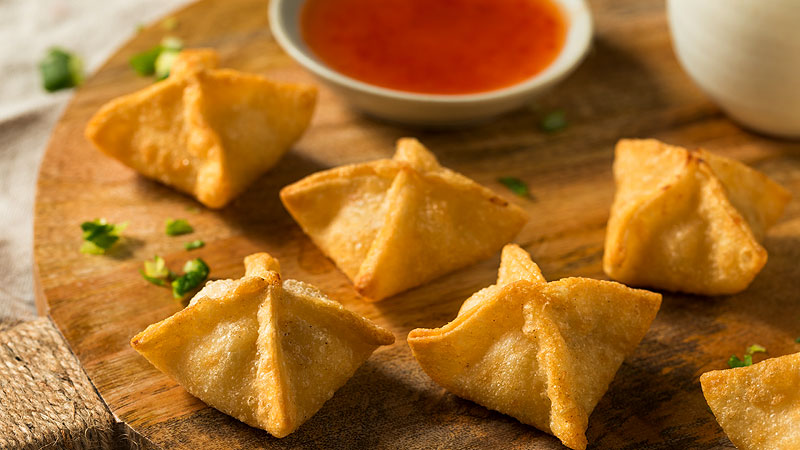 Indulge in the Irresistible Delight of Crab Rangoon! 🦀🥟
Savor the delight of this beloved appetizer, where delicate wonton wrappers embrace a luscious blend of crab meat and cream cheese, fried to a perfect golden crisp. These delectable morsels, also known as crab puffs, offer an enticing contrast of crispy exteriors and creamy interiors. Dip them into sweet and sour sauce for an explosion of flavors!
And the best part? You can enjoy these scrumptious Crab Rangoon delights right at home. Whether you prefer an air fryer or the oven, the same incredible flavors and textures await!
Ingredients
8 ounces crab meat shredded (real or imitation)
1 package (8 ounces) cream cheese, softened
3-4 green onions, chopped
1 teaspoon Worcestershire sauce
1 teaspoon soy paste
1 teaspoon garlic, minced
1 teaspoon granulated sugar
Wonton Wrappers or Egg Roll wrappers
Vegetable oil, for frying
Directions
In a bowl, combine cream cheese, green onion, Worcestershire sauce, soy paste, garlic, and sugar.
Mix until fully combined.
Add the crab meat and mix until well.
Heat your oil to 325°F-350°F
Add a spoon full of the mixture to your wrapper of choice and roll and seal the edges, using a little water on the edges.
When you have a few ready to go, place 4-5 in the hot oil and let them fry for 2-3 minutes, or until they are golden brown.
Remove to a wire rack to let cool
Dipping sauce
Everyone has their favorite sauce, here are a few options.
Sweet Chilly Sauce
Sweet Chilly Sauce and Soy Paste
Sweet Chilly Sauce and Japanese Mayonnaise
Bachan's Japanese Barbecue Sauce
Notes
You can use real crab or imitation crab meat.
Be Creative!
You can use the wonton wrappers to make the traditional crab puffs, of you can roll them in to the standard egg roll look. Either way the are good.
As far as the dipping sauce, try the different version listed here, and let me know your favorite.