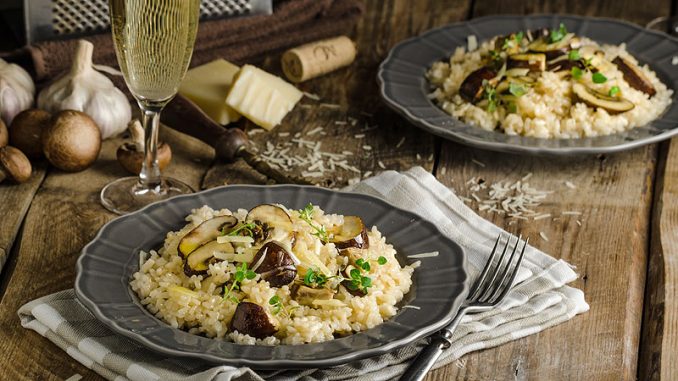 If you have the time, you will enjoy this dish. I say that because it takes about 45 minutes.
Ingredients:
3 TBSP Pecan Oil
8 Ounces Mushrooms sliced
3 TBSP Butter
2 TBSP Green onions chopped
2 Cloves Garlic, chopped
1 cup Arborio Rice
1/2 cup white wine
3-4 cups Chicken broth, heated
1/4 cup Parmesan cheese, grated or shredded
Directions:
In a sauce pan heat 1 tablespoon pecan oil and Saute' mushrooms until tender. Remove from pan and set aside.
Add remaining pecan oil and butter and heat over medium heat. Add green onions  and garlic and saute' about 2 minutes.
Add rice and stir until all grains are coated. Add wine and stir until totally absorbed.
Add 1 cup of hot broth and stir often until almost all broth is absorbed. then repeat.
Use enough broth to cook rice until it is just al dente.
Remove from heat and stir in the reserved mushrooms and Parmesan cheese.
NOTE:
This dish will serve 4,
We use salted butter and did not need to season any more.
If you have extra green onions, you can garnish before serving.
Add additional cups of broth, 1 at a time only after the first cup has been totally absorbed.
I find that when it is time to server, you may need to add a little more hot broth to freshen up the dish to keep it from being sticky.