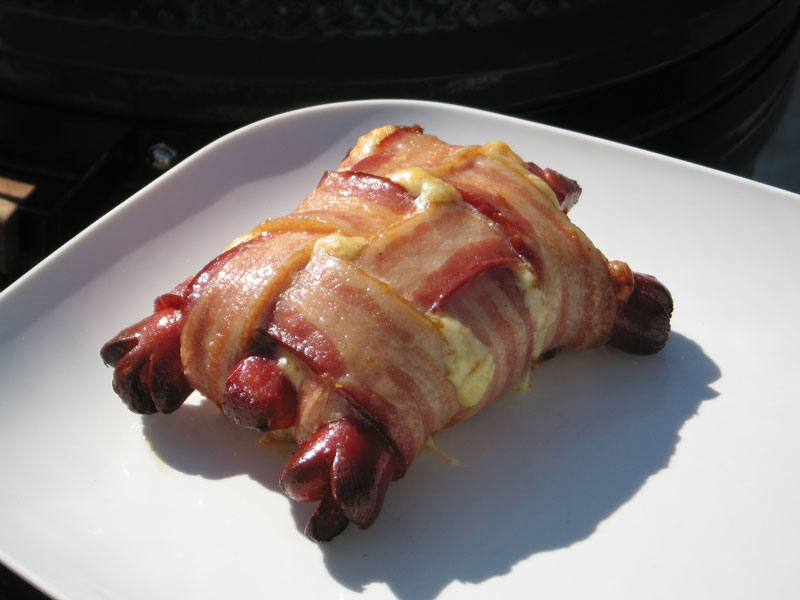 Some people like to see the turtles when that are born, but everyone loves to eat them when they are ready. I am talking about the one and only Sausage Turtles. Made with all good and heart health ingredients. This creation is from the heart, you have to want to have fun with your food. Anyone can make a sausage roll, but to give it life and then eat it is a good thing. The ingredients below is for one Turtle,you will need to increase the amounts to make more.
[ingredients title="Ingredients"]
5 Pieces of thick cut bacon
2 squares of Swiss cheese
3 hot dogs, 2 if you like short legs
1 hand full of sausage, without the casing
[/ingredients]
[directions title="Directions"]
Weave the bacon, 2 strips one way and 3 the other
Place 1 square of cheese over the weaver area
Place the sausage on the cheese
Cover sausage with the other square of chesse
Wrap the bacon over the top piece of cheese using opposite bacon strips to form a shell
Turn over and shape to look like a turtle.
Cut your hot dogs in short pieces to make the legs, head and tail.
Split the ends of 4 of the hot dogs to form the toes when cooked.
Carefully poke a hole in the corners of the shell, between the bacon strips with your finger to create a socket for the legs
Insert the legs.
Do the same for the head and tail, There is enough room between the bacon strips.
Set your grill up for indirect cooking and maintain 350 degrees.
Cook until the internal temperature reaches 150.
[/directions]
These Turtles will be the talk of your party. I would suggest you have fun creating them and get others involved too.
Notes: We end up making 4-6 Turtles each time based on the bacon, and sausage. My favorite sausage to use is Green Onion Sausage. This is what we had at the Green Egg Fest.