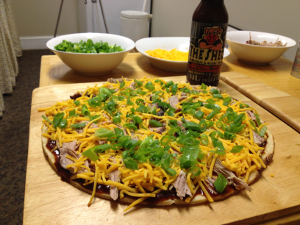 We started grilling pizzas for lunch here at GrillGrate HQ a while back. The barbecue pizza was hardly a stretch for us- we always have some leftover bits of smoked meat from the weekend. This recipe is a grate way to use up those leftovers and you still get to use your grill! I chose to use The Shed's BBQ Sauce because it had just become available in our local grocery store and we love to support our friends!
Makes Two Pizzas
Ingredients
2 pack Mama Mary's Thin and Crispy Pizza Crusts
1 healthy pound of pulled pork (chicken will work fine as well)
3 cups shredded cheddar cheese
1 cup BBQ Sauce (we used The Shed's brand)
3/4 cup sliced green onions
Directions
Preheat your grill to 500F (400F at the grate surface)
Remove the pizza crusts from the packaging and spray one side of each with some pan spray
Place the crusts onto a pizza piel
Spread the BBQ sauce evenly on the pizza crusts
Sprinkle the pork over the BBQ sauce
Sprinkle the cheese over the pork then add the green onions
Transfer the pizzas to your grill and close the lid, check after five minutes
When the bottom of the pizza has some nice grill marks (not too dark) rotate it 90 degrees, check again after 5 minutes.
Rotate 90 degrees and remove from grill once cheese is melted.
http://www.grillgrate.com/index.php?/recipe_pizza_lovers/barbecue_pulled_pork_pizza/&vsmaid=526&vcid=16522