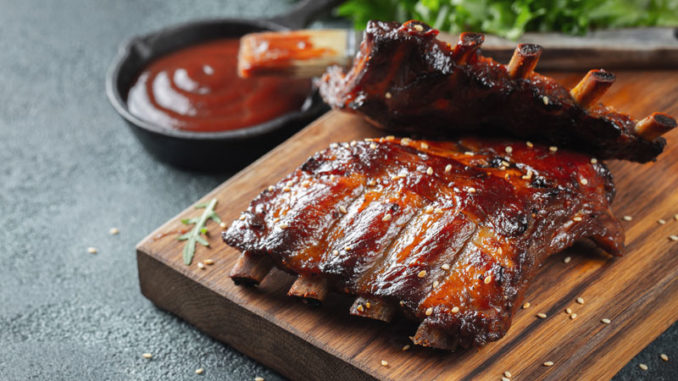 If you are looking for a different way to cook ribs, try this one from PitmasterX
We have done this a few times and wanted to consider changing the name to Deluxe Baked Beans!
How can you go wrong with these ingredients, 1 pot and a few hours.
This is the easiest pork rib recipe I have ever tried. We cooked these ribs and beans in a single large Dutch oven.
It's as easy as filling the cast iron pot close the lid. A few hours later you have fall-off-the-bone ribs with the best-baked beans.
Ingredients
3 racks Baby back ribs
Your favorite BBQ rub
6 Large onions
2.5 cups ketchup
8 oz Smoked Bacon
1/2 cup Maple Syrup
1/2 cup Bourbon
2 oz Apple Cider Vinegar
1 tbsp Worcestershire sauce
53 oz Pork & Beans (2 cans)
Directions
Heat you BBQ pit to 300 degrees.
Set the pit for indirect cooking.
Remove the silver skin off the ribs.
Sprinkle an even layer of the dry rub on both sides of the ribs.
Grease the inside of the Dutch oven with some pork fat or butter.
Slice the onions into 3/8″ rings and stack them along the inside of the pan.
Roll the baby back ribs up and place them in the Dutch oven against the onion rings.
Fill the pan with the rest of the ingredients and mix well.
Place the lid on the Dutch oven and close the BBQ pit.
Cook indirect for hours.
Notes
This recipe sounds too simple, but you need to try it once and you will be hooked.
I will say that the recipe on the PitmasterX's site has changed since we downloaded it in 2021.
It seams the Bourbon was removed, but that is the flavor that sets these ribs and beans from all the others.
We personally like "Evan Williams" Kentucky Straight Bourbon Whiskey
---