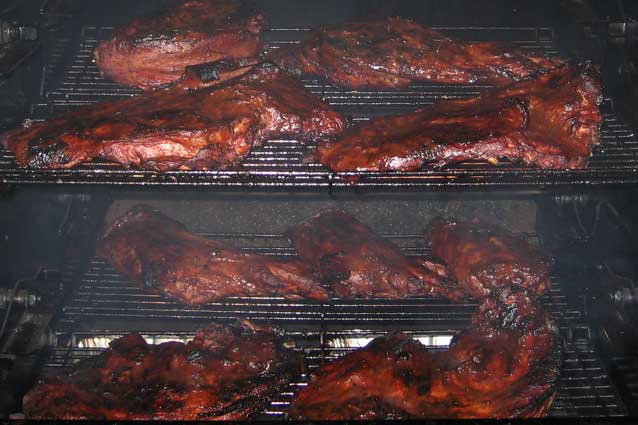 It doesn't matter if you hunt, or just cook it. It's O-SOO Good!!!!
Ingredients
1 (3 lb) venison roast (deer)
Season All
3/4 cup Red Wine Vinegar
3/4 cup Vegetable oil
3/4 Ketchup
4 tbsp Worcestershire sauce
1/2 tbsp garlic salt
1/2 tsp dry mustard
Pepper to taste
1 cup (or more) barbecue sauce
Directions
Sprinkle roast with Season All.
Combined mixture of wine, vinegar, oil, ketchup, Worcestershire sauce, garlic salt, dry mustard and pepper. Mix well then pour over roast in a non reactive dish, turning to coat.
Marinate, covered in frig for 12-24 hours.
Remove roast and sear on open grill on all sides for a total of 15-20 minutes. Then move the venison to the smoker and maintain 225 Deg. for 2 hours.
Basting the roast every 30 minutes with remaining marinate.
During the last 30 minutes of cook time, baste with the barbecue sauce.
Then remove from smoker. After the meat has cooled, remove the meat from the bone, by slicing what you can. Place in a new pan and add FRESH marinate to cover the bottom plus a little more (so the meat does not dry out), you can also put the BBQ sauce on top. Cover and return to the smoker for 4 hours at 225.
Remove from smoker, and let rest 15 minutes, then you can pull the meat or use 2 forks to shred like you would pulled pork.