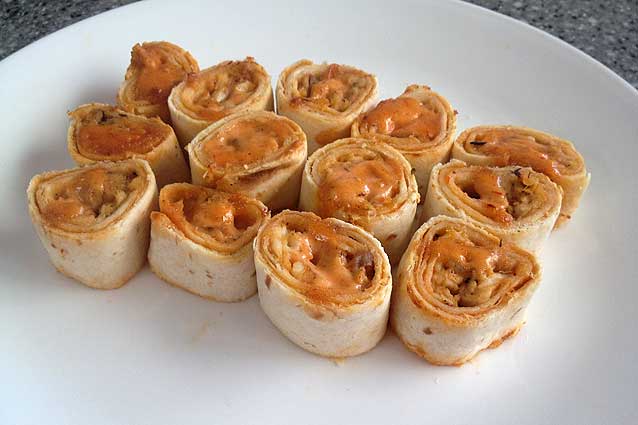 We have tested this recipe with many of our friends and family and believe we have nailed this one too. Cajun Fish Rolls is a combination of 3 recipes brought together as one.
[ingredients title="Ingredients"]
6 Filet of fish, Redfish, Tilapia, Amberjack or what ever filets you have.
Blackening seasoning
Phillips Seafood Seasoning
Flour Tortilla's (Seasoned)
1 1/2 cups mayonaise
1/2 tbsp celery salt
1/2 tbsp dry mustard
1/4 tsp paprika
2/3 cup chili sauce
1/4 cup tarragon vinegar
[/ingredients]
[directions title="First Fish Cooking"]
Season your fish with the Blackening seasoning
Place your filets on a grill pan and cook about 5-8 minutes on the Green Egg (just till the fish is flakey)
Remove fish and cool for a few minutes
Place all of the fish in a large bowl and flake
Add the Phillips Seasoning to taste. (It should have a big bite at this time)
[/directions]
[directions title="Remick Sauce"]
Combine celery salt, mustard, and paprika
Add to mayonnaise and blend well.
Add chili sauce and vinegar, mixing well after each addition.
[/directions]
[directions title="Directions"]
Spread a thin layer of sauce on the tortilla
Spread fish on 1/3 of the tortilla.
Wrap the tortilla tight.  Slice in 1 inch pieces
Stand roll on end and put a dot of sauce on the roll
Grill for 3 to 5 minutes (until sauce turns a darker orange)
[/directions]