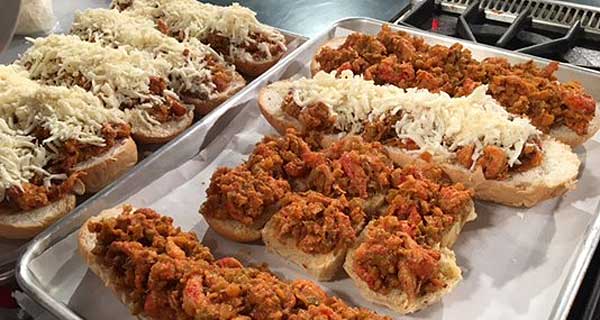 Chef Kevin's Crawfish Bread, we watched this on WWL TV morning news and plan to make it soon. It just looks like New Orleans food. He also nickname the dish as a New Orleans Pizza.
[ingredients title="Ingredients"]
1/4 lb. butter
2 cups onion, diced
1 cup celery, diced
1 cup green pepper, diced
2 Tbsp. Big Kevin's seasoning
3 Tbsp. tomato paste
1 lb. crawfish tails
French bread or Hawaiian rolls
2 cups mozzarella, shredded
1 cup Parmesan, grated or shredded
[/ingredients]
[directions title="Directions"]
In a large skillet, on a medium heat, melt butter. Add onion, celery, bell pepper and seasoning to melted butter. Simmer for 5 min.  Turn to medium/low and simmer for 15 minutes, stirring occasionally. Stir in tomato paste. Add crawfish tails and simmer an additional 2 minutes.
Cut bread lengthwise as if you were cutting it for a sandwich. Spread filling on both sides of bread and top with cheeses. Bake at 350 degrees for 10-15 minutes. Take out of oven, slice and serve.
[/directions]