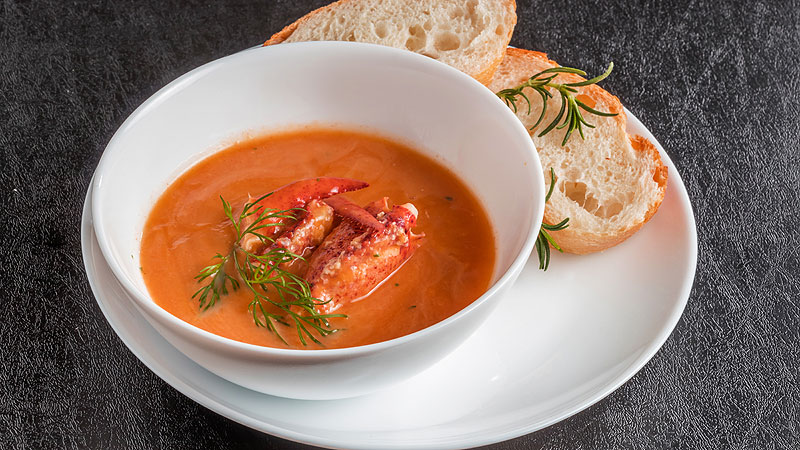 Ingredients
6 Tbsp. (3 oz.) salted butter
6 Tbsp. all-purpose flour
1 medium-size yellow onion, diced
1 red bell pepper, diced
2 celery stalks, diced
2 garlic cloves
1 medium tomato, diced
1 ½ tsp. kosher salt
½ tsp. black pepper
¼ tsp. cayenne pepper
3 cups seafood stock
4 fresh thyme sprigs
2 bay leaves
½ cup dry sherry cooking wine, divided
1   Ib. frozen peeled crawfish tails, thawed and divided
½ cup heavy whipping cream
1 Tbsp. fresh lemon juice
1 tsp. hot sauce
2 Tbsp. chopped chives
Directions
Melt butter in a saucepan over medium. Whisk in flour until combined. Reduce heat to medium-low, and cook, stirring constantly, until roux is pale brown, about 10 minutes. Add onion, bell pepper, celery, garlic, tomato, salt, black pepper, and cayenne pepper, and cook, stirring occasionally, 5 minutes. Increase heat to medium-high. Whisk in stock, thyme, bay leaves, and 1/4 cup cooking wine, and cook 10 minutes. Add half of crawfish, and cook 2 minutes.
Transfer mixture to a blender and process until smooth, 30 seconds. Return to pan, and place over medium-low. Stir in cream, lemon juice, hot sauce, and remaining crawfish and 1/4 cup cooking wine. Bring to a low simmer, and cook until heated, about 5 minutes. Spoon into six bowls, and top with chives.
Notes:
We in South Louisiana cannot use unseasoned crawfish, so after we drain the crawfish we sprinkle them with seasoned salt. This adds a little more flavor to the dish.