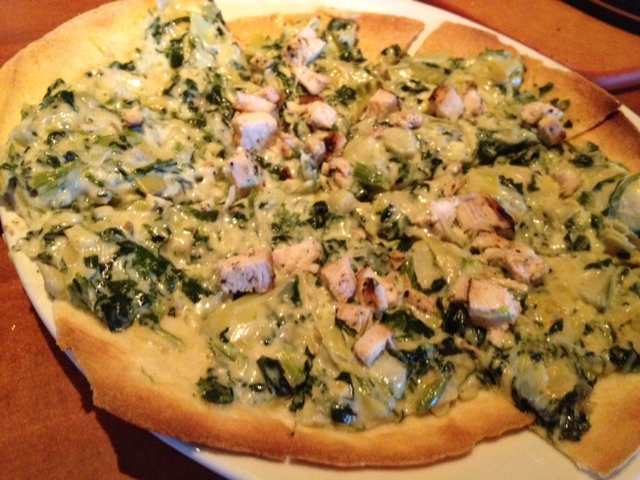 This dish is yummy and is ready in minutes.
[ingredients title="Ingredients"]
4 oz. light cream cheese
3 tbsp light mayonnaise
3 tbsp light sour cream
3 tbsp grated Parmesan
5 oz. frozen chopped spinach thawed, drained and moisture squeezed out
5-6 canned artichoke hearts, quartered ( Reese marinated in glass jar)
2 cloves of garlic, minced
salt
pepper
3 oz. grilled chicken breast cut into small pieces
1/4 cup shredded Parmesan
3/4 cup mozzarella
fresh salsa, drained excess water
garlic olive oil
pizza crust or tortillas
[/ingredients]
[directions title="Directions"]
Preheat the Green Egg to 500 degrees with pizza stone in place.
Assemble the artichoke dip in a medium bowl mixing together the cream cheese, mayo, sour cream, 3 tbsp Parmesan, spinach, artichoke, garlic, and salt and pepper to taste.
Spread the artichoke dip on the crust or tortilla leaving the edges open for crust.
Place cut chicken slices on top of artichoke dip and also the fresh salsa.
Then, sprinkle Parmesan and mozzarella cheese on top and drizzle the garlic olive oil last.
Place pizza on pizza stone for 5 minutes or until done.
[/directions]