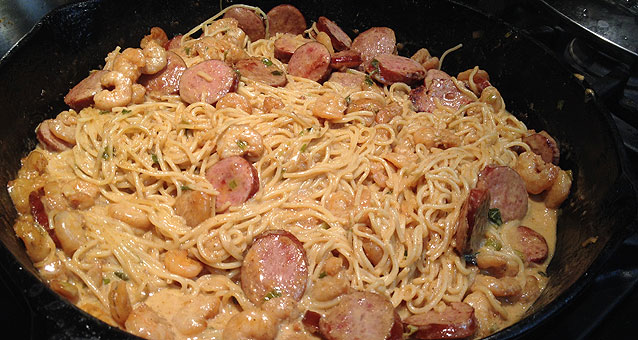 We found this recipe on Facebook and we wanted to give it a shot.  Being from South Louisiana we couldn't just do Chicken sausage, so we tweaked it with smoked sausage and shrimp.
Ingredients
 12 oz. angel hair
1 lb. smoked sausage cut into 1/4 inch rings
1 lb. peeled raw shrimp
2 tbsp. butter
3 cloves garlic, minced
1/3 c. sliced green onions, plus more for garnish
1.5 tbsp. Cajun seasoning divided
2 tsp. paprika
1/4 c. dry white wine
1/2 c. heavy cream
1/2 c. grated Parmesan, plus more for garnish
1/3 c. Grated Cheddar
Directions
In a large pot of salted boiling water, cook angel hair according to package directions.
Season raw shrimp with 1/2 tablespoon of cajun seasoning.
In a large skillet add sausage and cook until seared, 5 minutes, then push sausage to the side.
Add butter and let melt, then add garlic and cook until fragrant, 2 minutes.
Add green onions and cook until soft and fragrant, 2 minutes more. Stir until combined with sausage.
Add shrimp and cajun seasoning and paprika and stir until combined, cook about 3 minutes.
Add white wine and heavy cream and let simmer until thickened, 5 minutes.
Add Parmesan and cheddar and stir until melted and creamy, then add angel hair and toss until completely combined.
Garnish with more green onions and Parmesan and serve.
This quick recipe was OSOO Good.  We also garnished with fresh diced red tomatoes for color.
For a quick of the original recipe click here