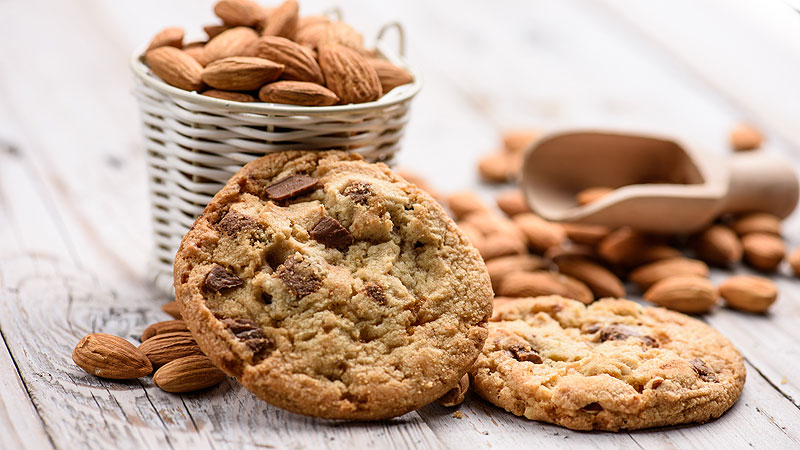 [ingredients title="Ingredients"]
1 cup slivered blanched almonds
¾ cup sugar
½ cup (1 stick) unsalted butter, at room temperature
1 whole egg plus 1 egg yolk
1 tablespoon almond extract
1¼ cups all-purpose flour
½ teaspoon baking soda
¼ teaspoon salt
¼ teaspoon Caramel Sauce, optional
36 whole blanched almonds
[/ingredients]
[directions title="Directions"]
Position a rack in the middle of the oven and preheat to 350°F. Spread the slivered almonds on a baking sheet and toast, stirring every 3 to 4 minutes, for about 10 minutes, or until fragrant and light brown. Remove from the oven, let cool, and then transfer to a food processor or electric mini-chopper. Add 1 tablespoon of the sugar and process to a fine, sandy texture. Set aside.
In a bowl, using an electric mixer, beat the butter until soft and creamy. Gradually add the remaining sugar and beat until well blended, about 2 minutes. Add the whole egg and almond extract and beat until smooth.
In another bowl, sift together the flour, baking soda, and salt. Add the dry ingredients to the butter mixture and mix with a rubber spatula until smooth. Add the ground almonds and mix well until a soft dough forms. Cover with plastic wrap and refrigerate for about 30 minutes, or until the dough has firmed up. (The dough may also be transferred to an airtight container and frozen for up to 1 month. Thaw before continuing.)
Reheat the oven to 350°F. Line 2 baking sheets with parchment paper. Pinch off 1-inch chunks of dough and lightly roll them between your palms into smooth balls. Place the balls on the prepared baking sheets, spacing them 2 inches apart. Use your thumb to make an indentation in the middle of each ball, reducing it to about half of its original thickness.

To make the glaze, in a small bowl, lightly beat the egg yolk with the caramel sauce. Brush a little of the glaze on each cookie, and then place a whole blanched almond in the center of each indentation. Bake the cookies, 1 sheet at a time, for 10 to 11 minutes, or until they have spread out, cracked on top, and the glaze is golden brown. The cookies themselves will have just a touch of color. Remove from the oven and let cool on the pan for 10 minutes. Transfer the cookies to racks to finish cooling before serving. Store any leftover cookies in an airtight container at room temperature for up to 3 days.
[/directions]
Heavily influenced by the Vietnamese cuisine and including these cookies. Although Almond Cookies (Banh Hanh Nhan) are available at Asian bakeries and markets, I prefer to make them myself to ensure that they are full of real almond flavor. Almond Cookies (Bánh Hạnh Nhân) are slightly crispy at the edges and tender in the middle, and have a nice rich color from the glaze.
I often make a double batch of this dough and freeze the extra, along with some whole blanched almonds, so that I can simply thaw the dough and bake it up when I crave the cookies.