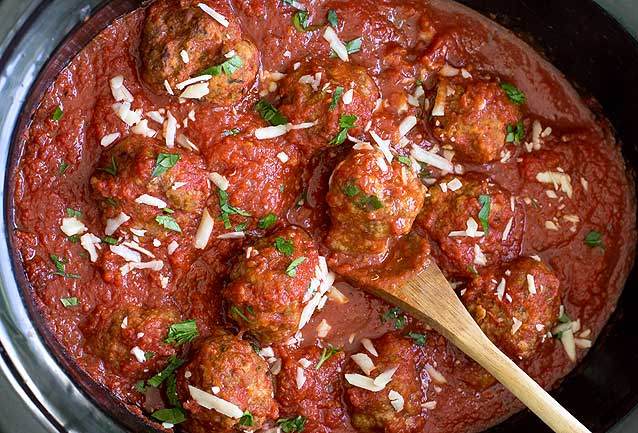 Our Niece who claims to not cook made these for her sons birthday. I supported her in making meatballs and I will agree they are good. So good I am including them here so I can make them too.
Super Tender Slow Cooker Italian Meatballs. Loaded with Parmesan cheese, fresh parsley and garlic. They melt in your mouth and are incredibly tender. Simmered low and slow for 4 hours!
[ingredients title="Ingredients"]
2 tablespoons parsley, chopped
1 cup Italian breadcrumbs
½ cup parmesan cheese, grated
2 (24 ounce) cans crushed tomatoes
1 (6 ounce) can tomato paste
½ teaspoon crushed red pepper flakes
½ teaspoon Italian seasoning
basil for serving, if desired
parmesan cheese for serving, if desired
[/ingredients]
[directions title="Directions"]
Add beef, pork, onion, garlic, parsley, breadcrumbs, eggs and cheese to a large bowl. Sprinkle with a pinch of salt and pepper. Mix with your hands until combined.
Form into 1 or 2 inch meatballs. I made 24 meatballs.
Lightly grease a baking sheet. Broil meatballs on high until browned on each side. About 4-5 minutes on each side.
Add meatballs to slow cooker.
Top with crushed tomatoes, tomato paste, bay leaves, red pepper flakes and Italian seasoning.
Cook on low for 4 hours.
Season with salt and pepper to taste. Serve warm with basil or parmesan cheese for serving, if desired.
[/directions]
Original recipe from chefsavvy.com
Other Meatball recipes: Rao's Meatballs with Marinara Sauce