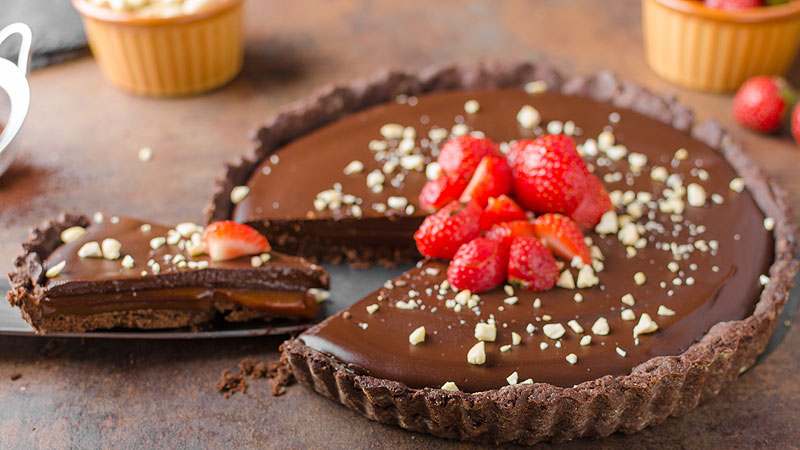 This recipe looked interesting to Rooney, so she ordered all of the ingredients from King Author and is ready to make it.
Ingredients
Crust
6 tablespoons (85g) soft unsalted butter
1/4 cup (50g) sugar
1/4 teaspoon salt
1/2 teaspoon espresso powder, optional; for more robust chocolate flavor
3 tablespoons (17g) Double-Dutch Dark Cocoa, or other Dutch-process cocoa
3/4 cup (92g) King Arthur Unbleached All-Purpose Flour
1/2 cup (43g) pecan meal or almond flour
Caramel Filling
about 1 3/4 cups (496g) caramel from a block, cut into 1/2″ pieces*
2 tablespoons (28g) heavy cream
1/4 teaspoon salt
1/3 cup (47g) pecans, toasted and chopped
*See tips, below.
Chocolate Filling
1/2 cup (113g) heavy cream
1 cup (170g) Belcolade bittersweet disks, or other dark chocolate (disks or chopped from a block)
Topping
1/3 cup (47g) pecans, toasted and chopped
Maldon sea salt or other flaked sea salt
Instructions
To make the crust: Lightly grease a 9″ tart pan.
In a medium bowl, beat the butter, sugar, salt, and espresso powder together until smooth. Add the cocoa, flour, and pecan meal (or almond flour) and mix until the dough comes together.
Press the crust into the bottom and up the sides of the prepared pan. Prick the crust all over with a fork then chill it in the freezer, uncovered, for 15 to 20 minutes or so, while you preheat the oven to 400°F.
Place the tart pan on a baking sheet and bake for 15 to 18 minutes, until you smell chocolate and the crust is set. Remove the crust from the oven and set it aside to cool.
To make the caramel filling: Heat the caramel, cream, and salt in a medium-sized saucepan set over medium-low heat, stirring regularly until melted and smooth. Remove from the heat.
Scatter 1/3 cup (47g) pecans over the bottom of the cooled crust then pour the caramel over the nuts. Place the caramel-filled tart in the freezer to firm up for 30 minutes.
To make the chocolate filling: Heat the cream in a saucepan or a microwave until it begins to steam. Pour the hot cream over the chocolate in a bowl, let it sit for 5 minutes, then stir until melted and smooth. If necessary, reheat very briefly to soften any remaining hard bits of chocolate.
Pour the chocolate over the firm caramel, and sprinkle with the remaining pecans.
Refrigerate the pie for 1 hour or more before serving. It's best served chilled but not cold; remove the pie from the refrigerator about 15 to 20 minutes before serving.
Store, covered, in the refrigerator for up to a week. Freeze for up to 3 months.
Tips from our Bakers
You can substitute the individually-wrapped caramel candies sold in grocery stores. You'll need about 60 to 65 of them, and they'll likely be firmer than the caramel block. To compensate, melt them with 1/4 cup of heavy cream.
I put the recipe on our site so we won't loose it.
https://www.kingarthurflour.com/recipes/salted-caramel-and-chocolate-tart-recipe