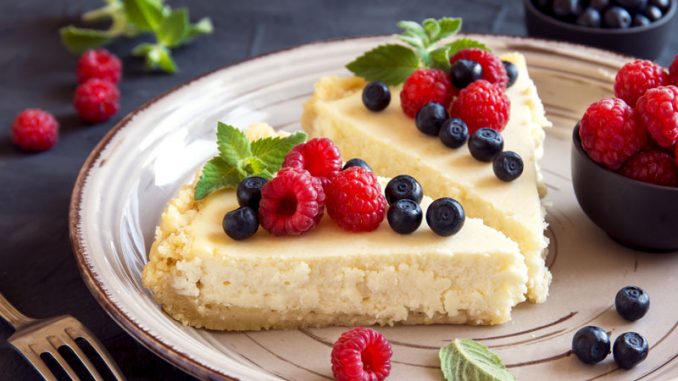 Of all the desserts at Commander's this is my favorite, even though I've never been a major cheesecake fan. Maybe it's because this one is made lighter yet still tastes rich, sweet, and soul-satisfying. The critical ingredient here is Creole Cream Cheese. You can find it at your local Rouse's Food marts.
Ingredients Crust
2 cups graham cracker crumbs
8 table spoons (1 stick) butter melted
1/2 cup sugar
Ingredients Filling
2 1/2 pounds softened cream cheese
1 1/4 cups Creole Cream Cheese
1 1/4 cups sugar
3 medium eggs
Ingredients Topping
3/4 cup sour cream
2 table spoons sugar
Directions Crust
Combine graham cracker crumbs, sugar and melted butter in a mixing bowl.
Mix thoroughly by hand, and press the crumbs evenly over the bottom and up the sides of a 9×3 inch spring form pan. Refrigerate.
Preheat the oven to 250
Directions Filling
Use the large bowl of a mixer with the paddle attachment to combine the softened cream cheese and sugar. Mix until smooth, occasionally scraping the bowl with a spatula.
Add Creole Cream Cheese and mix until smooth.
Add the eggs one at a time, scraping the bowl with a spatula and mixing until smooth after each addition.
Pour the batter into the prepared crust and bake for 2 hours, until the center of the cake is firm to the touch.
Let the cake cool while you make the topping.
Directions Topping
Combine the sour cream and sugar
When the cake is almost a room temperature, spread the mixture over the top with a spatula.
Refrigerate until completely chilled, preferably overnight.
Notes:
When you're coating the pan with the crumb mixture, be sure the corners are not too thick with crumbs. When you mix the better, don't over mix or you'll incorporate too much air and the cheesecake won't set up properly.
The trick to this cake is long, sl;ow baking. You don't want the top to crack or the cake to rise. And while the cake is baking, it should not have any color on top. If you're not sure it's done, turn the oven off and let the cake sit for 30 minutes before removing it from the oven.