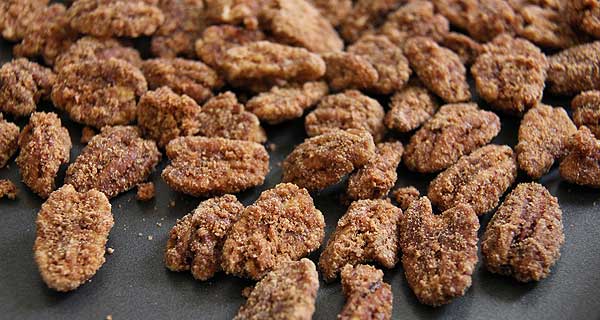 [ingredients title="Ingredients"]
3 tbsp Butter or Margarine, melted
3 tbsp Worcestershire sauce
1 tsp salt
1/2 tsp Ground Cinnamon
1/4 tsp Garlic Powder
1/4 tsp Ground Red Pepper
Dash of Hot Sauce
1 pound Pecan Halves
[/ingredients]
[directions title="Directions"]
Combine melted butter, Worcestershire sauce, salt, cinnamon, garlic powder red pepper, and hot sauce in a large bowl, stirring well.
Add pecans halves to mixture, stirring gently to coat well.
Spread coatd pecans in  a single layer in a 15x10x1 jellyroll pan
Bake at 300 for 25-30 minutes, stirring frequently.
Drain pecans on paper towel; let cool. Store in an airtight container.
[/directions]
This recipe comes from Santa Barbara: 200 Years of Good Taste