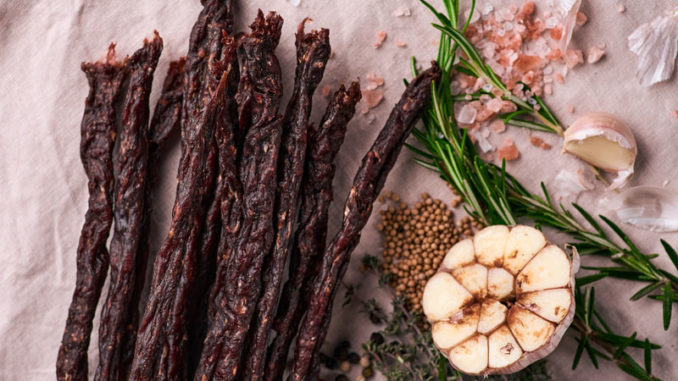 I have tried many different recipes. flavor profile and I think we have settled on this one. I cannot say what flavor it has but it is a sweet heat jerky.
Ingredients
1 cup Lea & Perrins Worcestershire Sauce
1 cup Honey
1 cup brown sugar
1/4 cup OSoo Good Spice Rub
1 TSP liquid Smoke
2 pound top round beef
Directions
Cut the meat in to small strips, I like 3/8″ x 1/2″
Mix all ingredients except meat in a bowl and them pour into a zip top bag
Add the meat to the zip top bag and refrigerate for 24-48 hours.
Pre-heat your oven to the lowest setting 170
Position the marinated meat strips on a cooling rack on top of a pan to catch the juice
cook in the over for 3.5 hours or until the jerky reaches the desired texture.
Note: We use a natural gas oven, our lowest temperature setting is 170. We have tried in a dehydrator but we like the oven better. The cut of meat you choose can make a difference. We choose to cut ever bit of fat off the meat to make it a lean as possible.