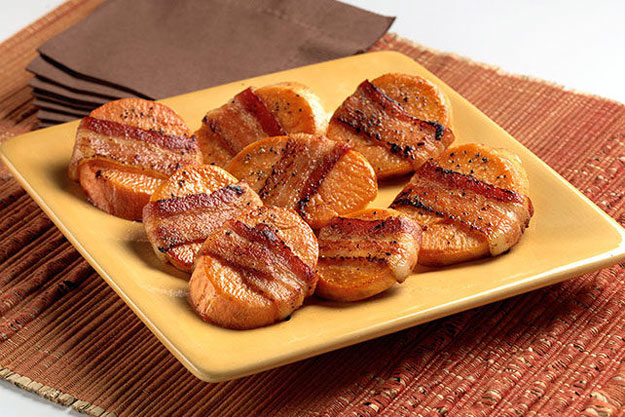 In New Orleans, we can never leave good enough alone. My wife made this recipe and is was good as a stand alone. Then My friend mentioned he had sweet potatoes with an Amaretto Glaze. We needed to create a glaze to top these potatoes, and I think these are now a cool side dish, or appetizer.
Ingredients
1 sweet potato (1/2 lb.), peeled
4 slices, cut in half or not
freshly ground black pepper
Directions
Cut ends off potato; discard. Cut potato into 8 slices. Wrap bacon piece around each potato slice, overlapping ends under potato.
Place, seam sides down, in large skillet.
Cook on medium-low heat 12 to 14 min. or until bacon is done and potatoes are tender, turning after 7 min.
Drain on paper towels.
Season with pepper.
Notes:
The original recipe calls for only a half piece of bacon wrapped in one direction around the potato, but I like to use a full piece of bacon. Remember, bacon makes everything taste better.
Sweet potatoes vary in size. Large potatoes will yield more slices per potato. Adjust the number of bacon slices as needed and cook in batches.
You can also use a sliced unpeeled large Yukon gold potato.
Instead of serving as an appetizer, serve as a side dish with your favorite grilled meat, or with cooked beef or pork roasts.
Added Flavor variations:
We use the Amaretto Glaze to top these potatoes, or you can try topping with garlic powder, Cajun seasoning, chopped fresh chives and/or Sour Cream.
Comments:
We have tried to use only 1/2 piece of bacon, but it would not stay on the potato, so now we use a full piece and wrap it like a present.
The original recipe comes from the Kraft Recipes web site.
http://www.kraftrecipes.com