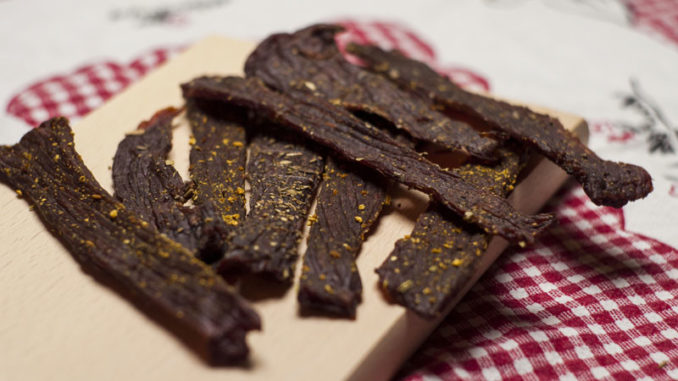 Have you noticed how much jerky cost at the store? Save your money and try this easy jerky recipe from Kent Rollins.
Ingredients
2 lbs. meat (chuck roast, bottom round, brisket, deer, buffalo, etc.)
1/4 cup soy sauce
2 1/2 tablespoons liquid smoke
2 tablespoons Worcestershire
2 tablespoons light brown sugar
2 teaspoons salt
1 teaspoon meat tenderizer
1/2 teaspoon coarse ground pepper
1 teaspoon onion powder
1 teaspoon smoked paprika
1 teaspoon garlic powder
Directions
Freeze the meat for about 40 minutes or just until stiff for easier cutting.
Whisk together the remaining ingredients in a bowl.
Remove the meat from the freezer and cut into tin slices. Cut off any excess fat around the edges, this will prevent spoilage and allow for faster curing.
Place the strips of meat into a zip top bag and pour the remaining ingredients in the bag
Place in the refrigerator overnight or for at least 6 hours. The longer it sets, the better the flavor.
Preheat the oven to 180 degrees F.
Line a high sided pan with aluminum foil and place a cooling rack on top, spray rack and pan with cooking spray.
Place the strips of meat on the rack, making sure the strips are flat and not touching each other.
Place the rack in the center of the oven.
Close the oven door and place a towel or potholder in between the door and the oven, just enough to allow a small crack for airflow. This will allow moisture to release while cooking. About 1 1/2 hours in, flip the meat over and continue cooking for another 1 1/2 hours.
You can cook the jerky longer for more of a crunchier texture.
Place the jerky on a wire rack until dried and cool. Place in a plastic bag with a paper towel and seal. This can be kept for about 4 days. If storing longer than four days, freeze until ready to eat.
Notes:
We end up using 2 racks for cooking and at the 1 1/2 hour mark, not only do we turn the meat over we also swap places of the pans. It appear the top pan cooks better. I
This recipes came from Kent Rollins, he has a great YouTube channel with new videos every Wednesday at 2:30 CST